Features
While it's easy to quickly build your portfolio with Portfolial, it is also packed with features to help you take your site to the next level. Here you can find a list of all the main features Portfolial offers.
Features • Import
Import and embed anything.
Import and embed your work from anywhere in any format. Our intelligent extractor will extract all the portfolio item details.
Import by URL
Enter the URL to an online article or portfolio item and Portfolial will extract a title, publication date, image, description and publication name.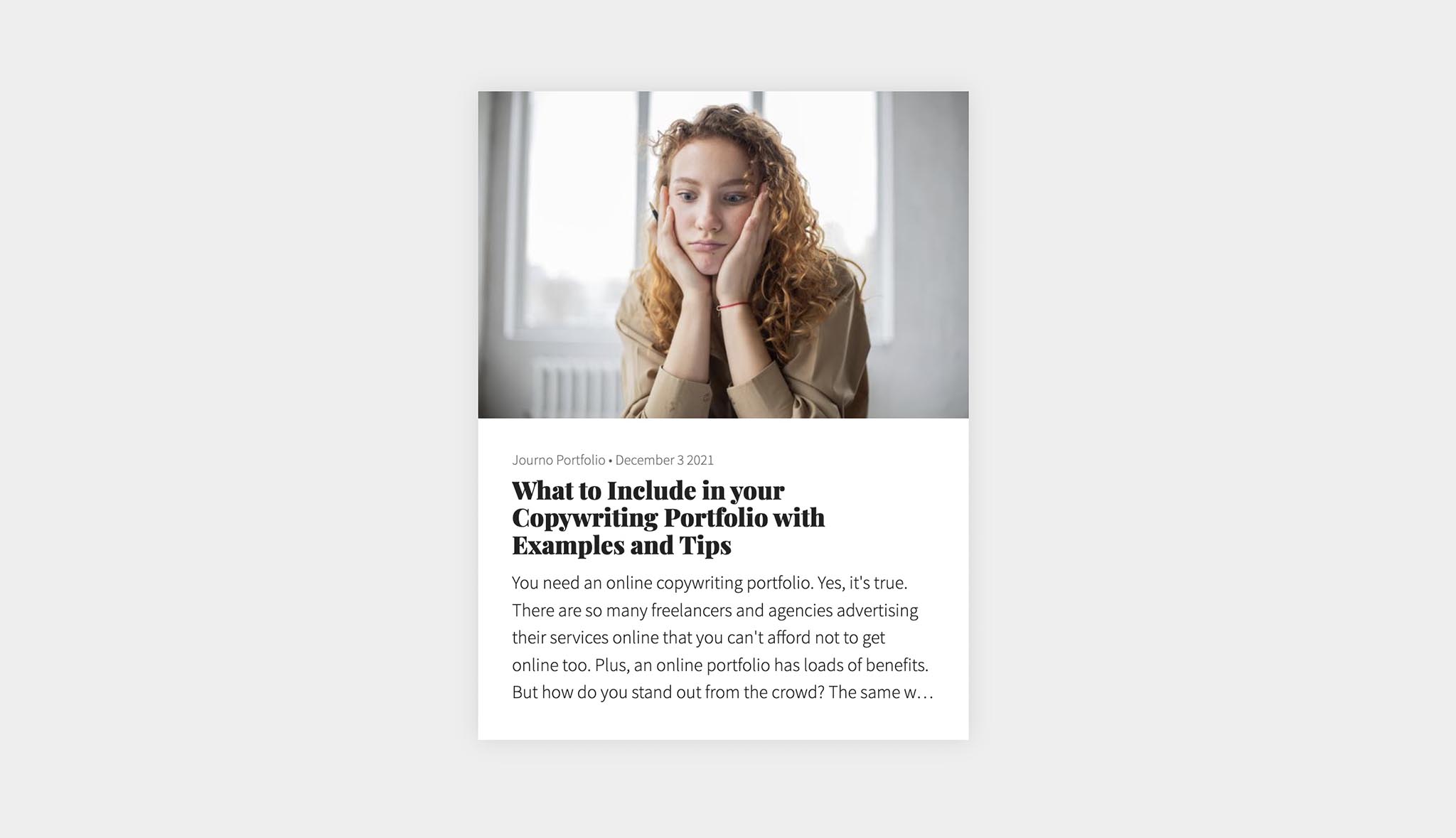 Embed Anything
Embed a Video URL from any video site such as YouTube, Vimeo or Facebook and Portfolial will extract a title, publication date, image, description and publication name and when clicked an embedded video player will you to watch the video directly on your portfolio.
Upload PDFs
Upload a PDF and Portfolial will extract a title, publication date, image and description. Ideal for showcasing work delivered in a PDF format or offline work.
Upload Media
Upload images, video or audio files directly and Portfolial will extract a title, publication date and publish it ready for you to add further details.
CV/Résumé Upload
Upload a CV or Résumé to display on your portfolio, perfect for showcasing yourself to potential employers or clients.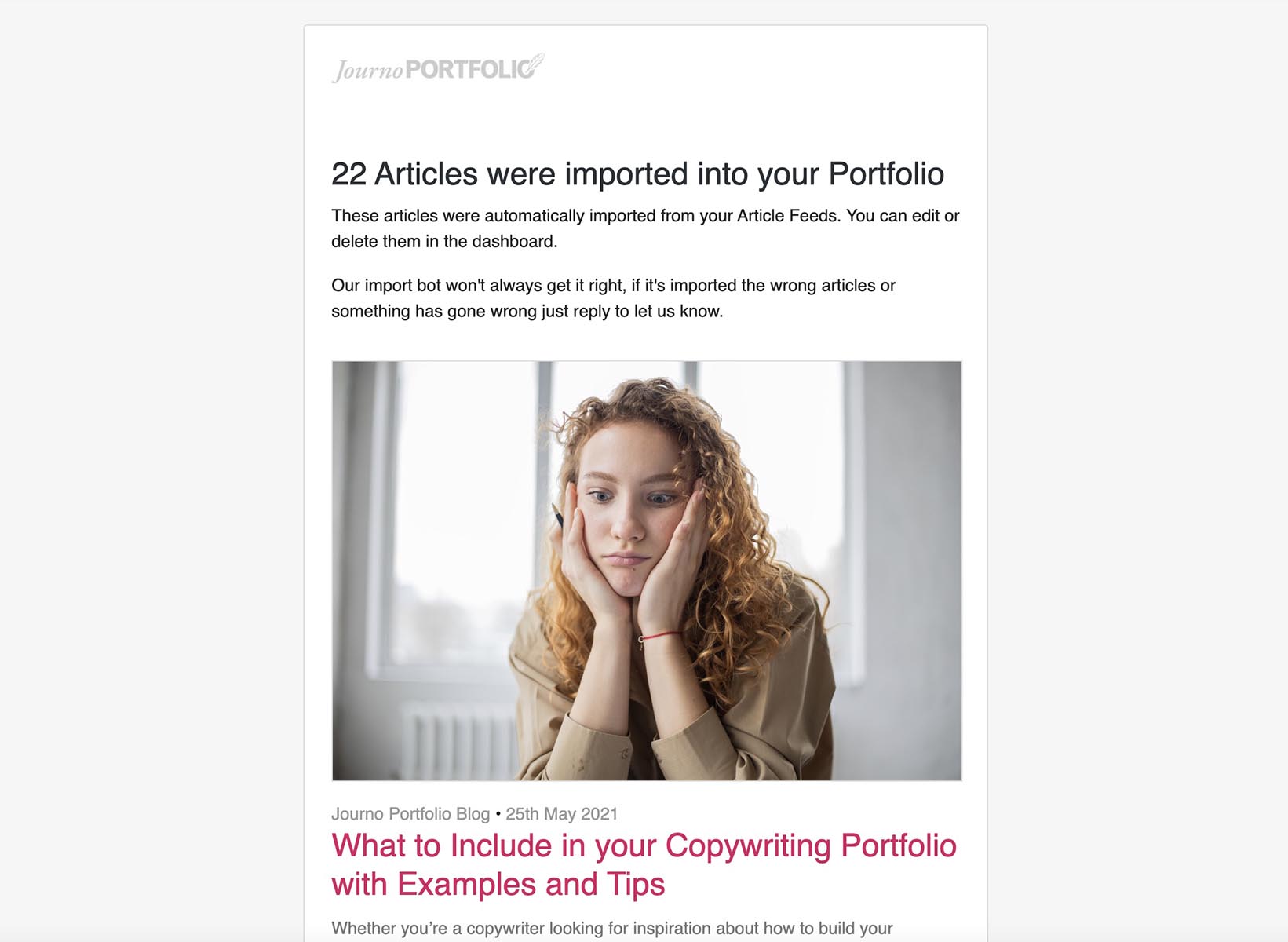 Automatic Import
Add an RSS feed or profile page URL in the "Article Feeds" and Portfolial will check the page for new articles once a day and import them into your portfolio. You can set the block(s) to control where they will display.
Features • Showcase
Display your work, your way.
With Portfolial you can easily display your work however you want. Customise layouts, image and font sizes, colours, spacing, columns and more or pick from our 8 pre-built options to get going quickly.
Multi-page
Create any page structure you want: have sub-pages for categories of works, portfolio items grouped by type on one page or a featured portfolio item section.
Export a PDF
Export your portfolio items in a PDF format to send with job applications where you can't use a website.
Automatic Assignment
Tag portfolio items and automatically assign them to different sections to manage thousands of items.
Features • Build
Build a site as unique as you.
Portfolial is a full-featured and powerful website builder that makes building a stunning portfolio site a breeze.
Pre-built Sections
Pre-built (pre-designed) sections and pages make creating custom page layouts a breeze.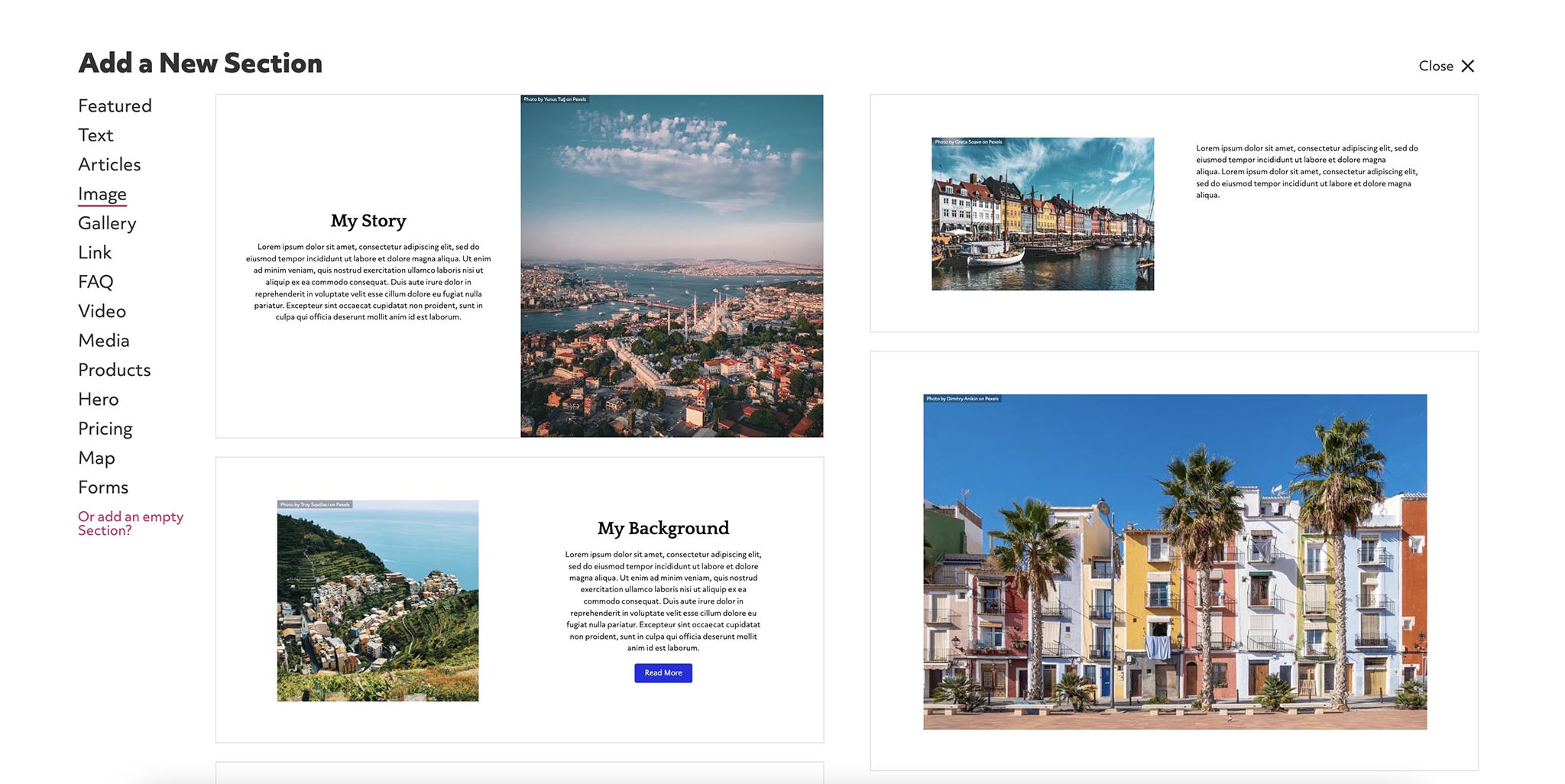 SEO Features
Portfolial is highly optimised to help your portfolio rank well in search engines which is important for getting found online. Optional advanced settings let you customise exactly how this works.
Block Editor
Pages in Portfolial are made up of 'Blocks' which you can add, delete and re-order. Each block displays differently on your page, for example, you can have a block to show a featured portfolio item, an 'about me' block or a contact form.
Mobile Ready
By using Portfolial you can rest assured your portfolio will look great on any device and in every browser, as well as loading fast and using the latest best practices.
Multiple Themes
Customisation is at the core of Portfolial. You can choose from 8 very distinct themes to choose a layout and design that suits your work.
Comment Area
Allow readers to comment on your blog posts to get feedback and start discussions. You can moderate comments and spam prevention features are built in.
Custom Domain Name
Get a free yourname.journoportfolio.com domain on registration or upgrade to Pro to get a custom domain name. Own a domain name already? No problem, you can point it at our servers or transfer it to us.
Features • Analyse
Analyse and track performance.
Powerful, privacy-friendly analytics are built-in to your portfolio allowing you to track how your portfolio is performing.
Privacy-friendly Analytics Built-in
Our built-in analytics system allows you to quickly get an overview of how your site is performing. Track visitor's and page views and see the location and source of the traffic to your site.
Our analytics service doesn't use any cookies, trackers or scripts on your site that slow it down.
Need more powerful analytics? Easily integrate with Google Analytics or any other third-party analytics service.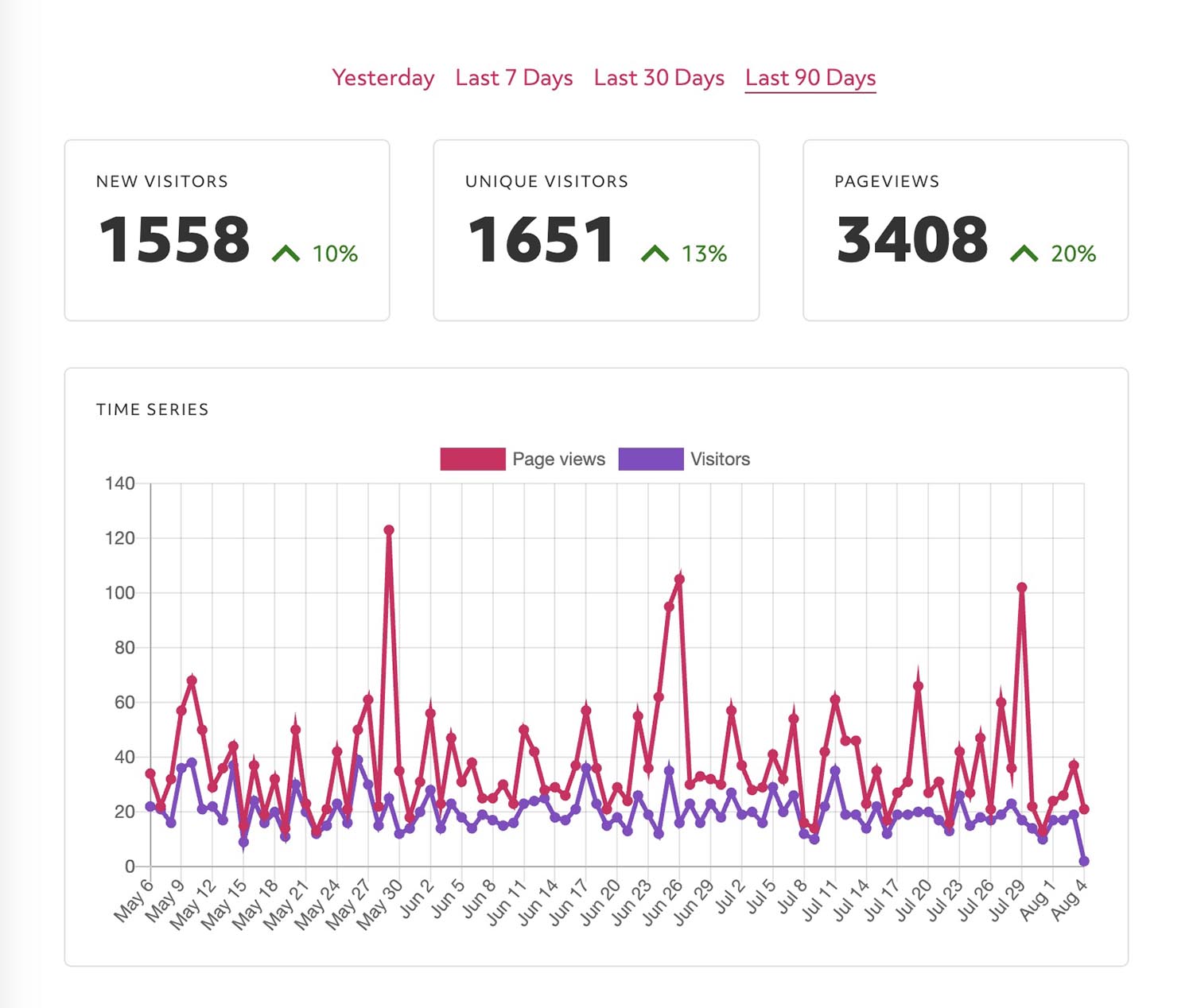 Cookieless
Unlike most analytics services ours runs on the server itself so it doesn't use any cookies, trackers or scripts that run in your visitors browsers. This helps keep your site fast and privacy-friendly.
Timeline
See a live timeline view of every visit to your site letting you know where they visited from, how they found the site and what pages they visited.
Share Tracking
Want to know when someone has actually viewed your site? Our invite tool allows you to invite people by email and keep track of if they have opened your portfolio.
Features • Grow
Engage visitors, grow a following.
Turn visitors to your site into long-term followers by subscribing them to your portfolio to receive a weekly update.
Subscribe Form
Easily add a subscribe form to your page and customise how it appears. This lets visitors sign-up for a weekly notification of any new portfolio items by you on your portfolio.
We take care of double-opt-in and our Mailchimp integration allows you to sync your subscribers to a Mailchimp audience so you can send them your own newsletter.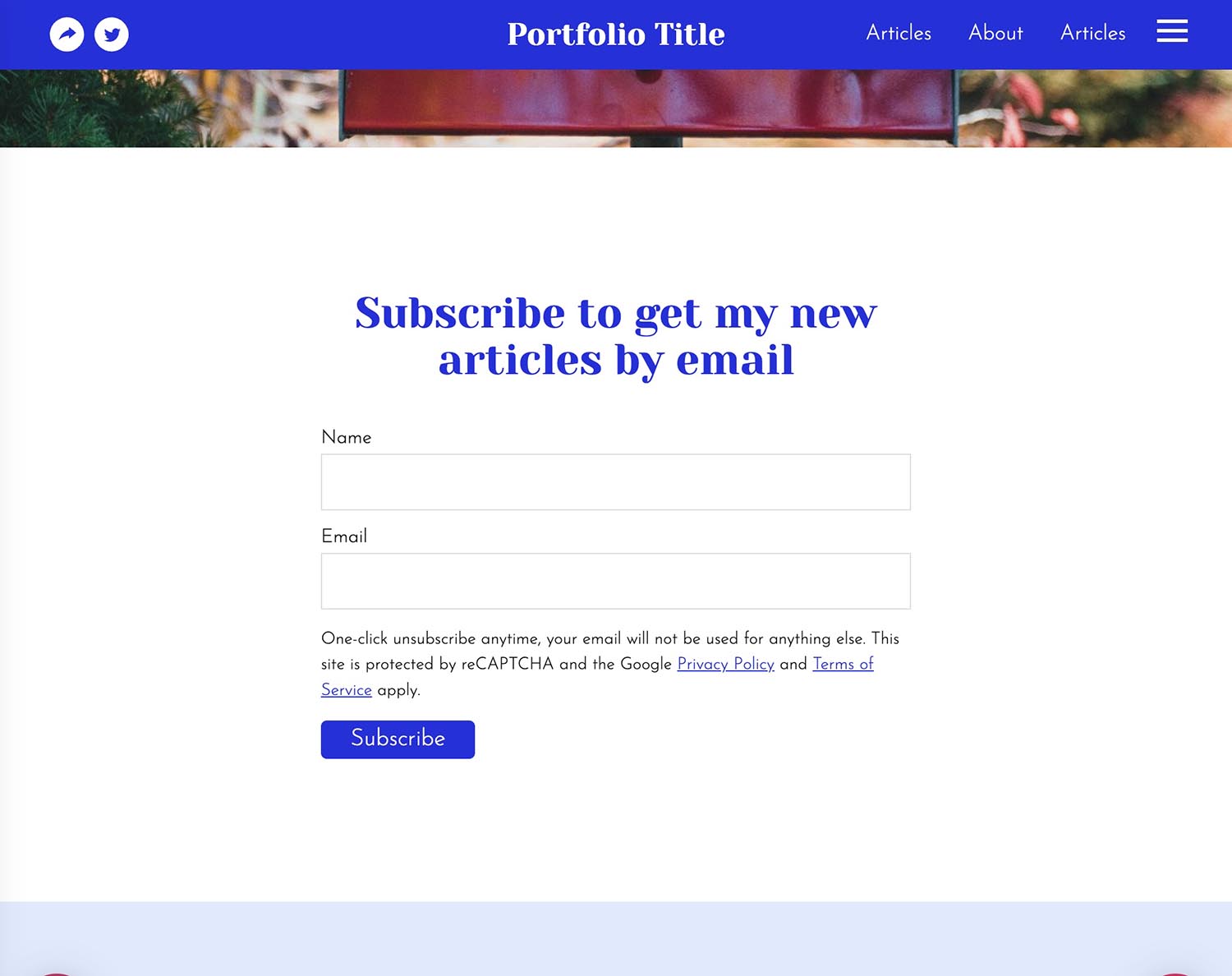 RSS Built-in
Some people prefer to follow via RSS feeds instead of email notifications, allowing them to receive your latest updates directly via an RSS Feed reader. On Portfolial every page has a built-in automatic RSS feed.
Contact Form
All of our plans allow you to add a contact form to your site to allow visitors to get in touch with you easily. This also keeps your email address private.
Social Links
Add your social links anywhere that you want on your site and choose from various icon styles and sizes.
Features • Protect
Control who sees your content.
You have complete control of which parts of your site are public and which are protected. Use a password, secure link or hide your site from search engines.
Password Protected
Make sure only the people you want to see your portfolio see it with password protection. You can protect your whole site or a single page. Change your password anytime and customise the password page image and text.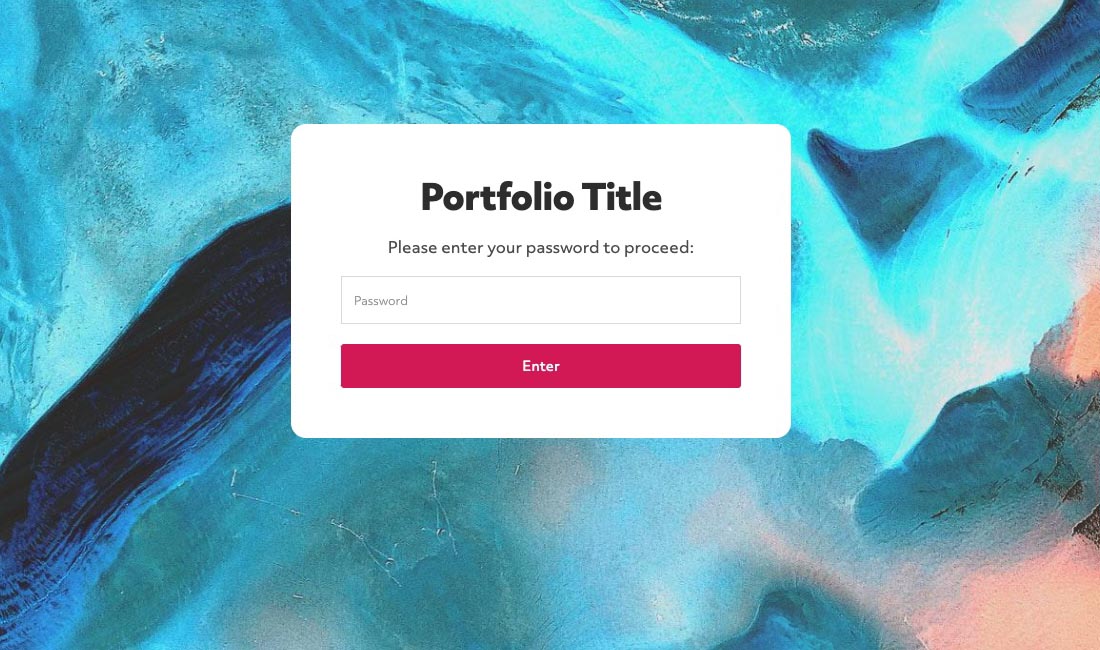 Secure-link Access
Avoid the hassle of passwords and send a secure link to access your portfolio. You can customise the lock-screen image and text. Once they click the link the user will be granted full access to the locked site, even if they visit again later.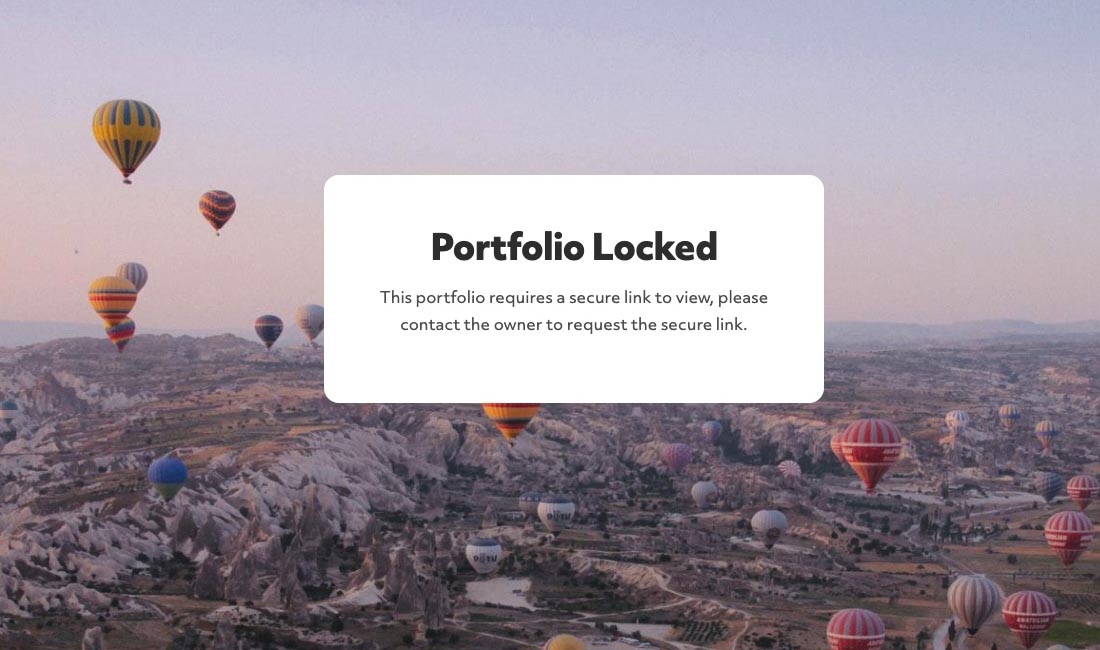 HTTPS as Standard
No need to buy a certificate, Portfolial will automatically issue a certificate to all domains connected.
Invite to View
Want to make sure someone has viewed your portfolio? Use the invite feature to send them a link to your site and track if they have opened it.
Hide from Google
Don't want your site to be accidentally found by your current employer? Hide it from search results so only someone who knows your portfolio URL can view it.
Features • Backup
Backup your work.
Online content is often lost or deleted. Portfolial automatically backs-up your work up so that when and if that happens you have an exact copy you can immediately switch in.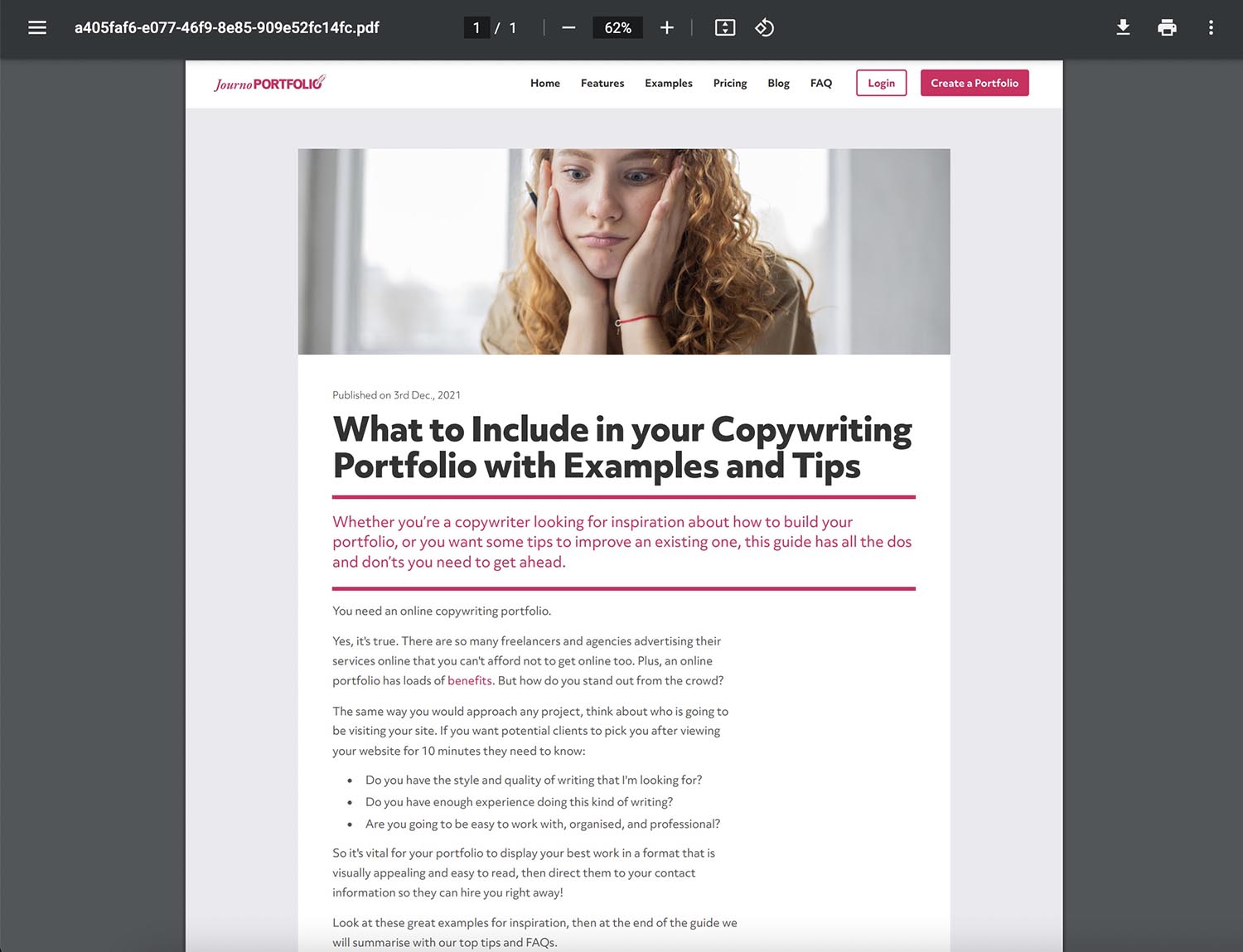 1. Add Articles to your Portfolio
Add your online URL-based articles to your portfolio. Portfolial will automatically extract the details of the article such as the date, title, description and image.
2. Automatic Backup
Portfolial will automatically back-up the articles in two formats: as a PDF and as a screenshot.
3. Switch in the Backup
If the original article is ever taken offline you can seamlessly switch to linking to the backup instead.
What our customers say.
"
Portfolial made it so easy
"
"
Easy-to-use - customer service is excellent
"
"
has sooooo much to offer
"
"
I can't endorse this site enough
"
"
I would recommend this site 100%
"
"
Not only is the platform perfect, but the customer service is excellent
"
"
I like that the editing is fast and intuitive
"
"
Extremely pleased with the service
"
"
I love the functionality and I recommend it to all my friends
"
"
I love the functionality and I recommend it to all my friends
"